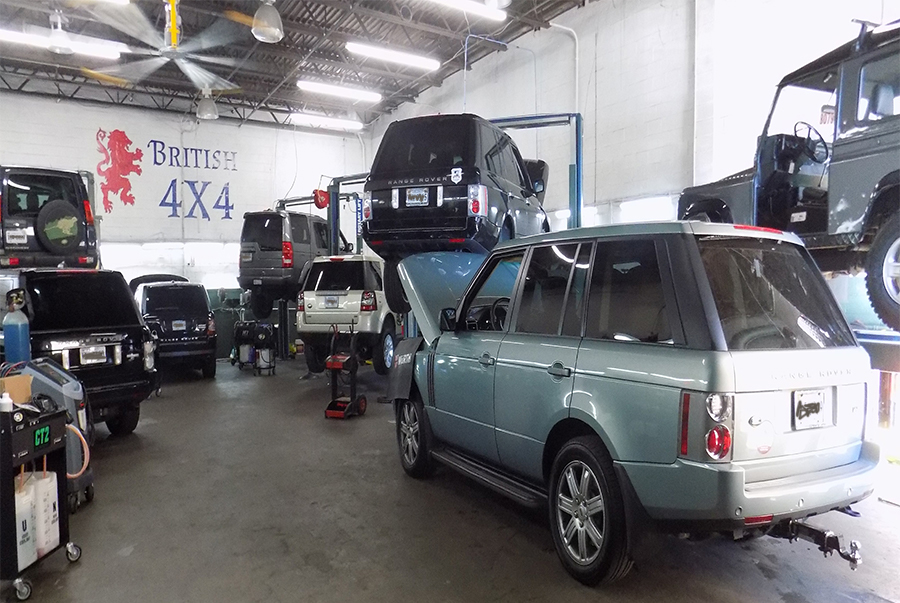 Land Rover® Range Rover® Service
Welcome to the Best Land Rover® Range Rover® Service and Repair.  TRUSTWORTHY diagnostic and repair technicians for your Land Rover® Range Rover® Trucks!  Correct and accurate work the first time means no more back and forth with your truck to find the problem.
Read WHY we fix it right the first time.
British 4X4 works ONLY on Land Rovers and Range Rovers. British 4X4 has the CURRENT Land Rover® Factory Diagnostic Computer as well as the T4 for your Older Land Rover® Diagnostic, with Technicians who actually know how to use these computers!  Did you know that many symptoms of repair can be solved with a mere Software Update?  This level of expertise saves you A LOT of money and time with your Rovers repair and maintenance. SPOT ON DIAGNOSIS!  Technicians at British 4X4 are paid SALARY, not commission or bonus and they do not accept tips, like most all other repair facilities. This cuts out any incentives to make unnecessary and costly repairs to your Land Rover® or Range Rover®. Knowing your Rover has been serviced by Land Rover® or Range Rover® Experts gives both a much grater sense of security and trust knowing that your Land Rover® has been serviced or repaired correctly.
We do NOT employee Service Writers you will speak directly with the technician working on your Rover.
Land Rover®  Regular maintenance checks
Land Rover ® All scheduled service
Extended warranties honored
Land Rover®  Engine tune-ups
land Rover®  Oil changes
land Rover®  Brake repair / replacement
Land Rover® Tire maintenance / replacement
Range Rover®  Steering and suspension adjustments
Servicing Land Rover® & Range Rovers in the Washington DC Metro areas.
Verified Estimates EXPIRE 60 days from date of presentation  In the case of a parts price increase at Land Rover® , which we have no control over,  parts prices may change at the time of Land Rover® parts price change even if it is less than 60 days.
THE BEST LAND ROVER® AND RANGE ROVER® TECHNICIANS, DON'T CONFUSE US WITH THE DEALER, WE ARE A LOCAL FAMILY OWNED INDEPENDENT SHOP
NOTE: Our Thank You Bags Have Cookies That Do Contain NUTS
Washington DC, DC, Alexandria VA, Arlington VA, Springfield VA, Dupont Circle, Georgetown DC, Falls Church VA, Annandale VA, Chantilly VA, Tysons Corner VA, Tyco Road, Springhill RD, Vienna VA, McLean VA, Manassas VA, Burke VA, Old Town Alexandria VA, Alexandria, Fort Washington MD, Maryland, Virginia, Woodbridge VA, Dale City VA, Potomac MD, Potomac Maryland, Bethesda Maryland,