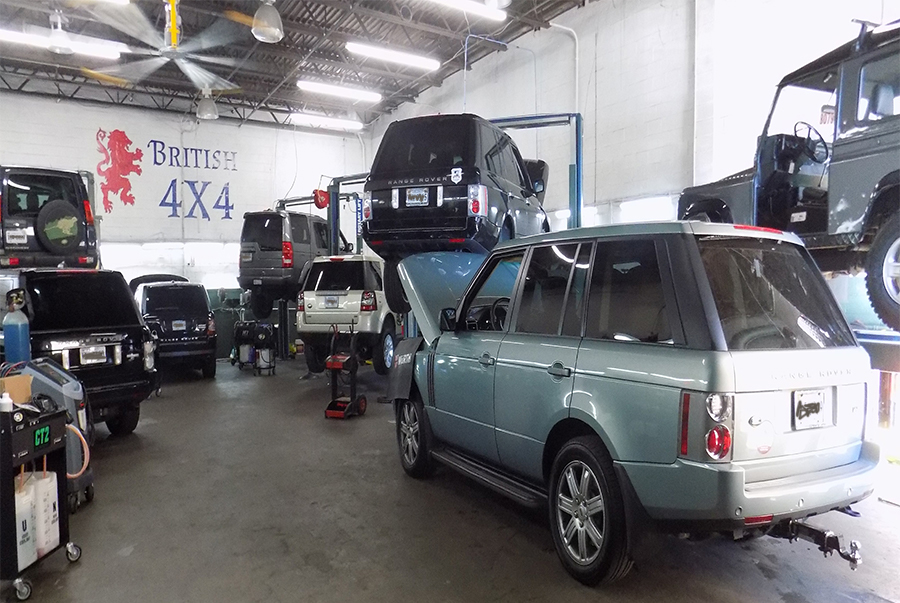 Land Rover® ONLY Repair Shop
British 4×4 Works ONLY on Land Rovers and Range Rovers!  We are not THE Dealer.  Please don't confuse us with THE DEALER we are an Independent, FAST, ACCURATE, TRUSTWORTHY, Land Rover® Range Rover® Shop Of Technicians. WELCOME TO BRITISH 4×4!  We have no affiliation with the manufacturer,  we are a Locally Owned Independent Family Business.  We value your business.  We diagnose and repair your Land Rover® Range Rover® properly the first time,  without headache and complication. Many repair problems are fixed with a simple Software Update which we do in house.  We also do all major and minor repair and maintenance on any Land Rover®  Range Rover® from Oldest to Newest. No system is to complicated for us and no job is to big or to small! We have a passion for Rovers. Please allow us to show you our expert Land Rover® Range Rover® Service.
WELCOME TO British 4×4 LAND ROVER® SHOP AND TECHNICIANS  FOR YOUR LAND ROVER® RANGE ROVER® TRUCK
British  4×4 INDEPENDENT Land Rover® Service and Repair, is not affiliated with the Manufacturer, of Land Rovers , we are doing this ALL on our own, proudly.  British 4×4 does have The Land Rover® Factory Diagnostic Computer, with much lower prices than the dealers charge for this service. We also have the T4 for diagnosis of the older Land Rovers as well. British 4×4 is your one stop shop for all your Land Rover® and Range Rover® Service and Repair as well as Paint and Body. We accept Extended Warranty and Insurance. Come meet our Staff they are great Technicians who care about each and every job they do on your LR and RR Truck! This Allows a FAST,  ACCURATE Repair THE FIRST TIME.
Hello & welcome to British 4×4. My name is Jace Harrill. I would like to thank you for allowing me the opportunity to do your Land Rover® or Range Rover® service and repair. In addition to British 4×4, my family owns and operates Top Line Jag Repair since 1990~ We have earned an incredible relationship with our community and are a national leader in our expertise in Jaguar® repair. We now offer the same level of expertise to the Land Rover® service and Range Rover® repair with British 4×4.
British 4×4's elite staff who work ONLY on Land Rover® and Range Rovers. Full service, Land Rover® repair, maintenance, paint & body on all Land Rovers or Range Rovers beginning until present. ALL staff and technicians are paid SALARY not commission or bonus, and do not accept tips. This cuts out any incentives to make unnecessary or costly repairs.
Read what British 4×4 customers are saying:
Great job on my Range Rover® repair, Gary K. Washington DC.
Refreshing! No extra charge on my Rover repair, Thanks Jace. Regina P. Alexandria VA.
British 4X4 old fashioned business ways, reminds me of a small town, breath of fresh air, I would recommend this shop to anyone. Jeff L. Bethesda MD.
Anyone with a Rover should take it to these guys, British 4×4 did a good job for a fair price on my LR3. Shep D. Fredricksburg VA.
Thank you for the great work and upfront sure pricing, I really appreciate it. Mike R. Baltimore MD.
Will definitely return and recommend others to British 4×4 Pete W. Richmond VA.
Thank you for explaining my work clearly to me and not over charging. Latisha C. Fort Washington MD.
I wouldn't trust my Defender to anyone else! Jace is my go to Rover tech.  Connor L. Potomac MD.
Cookies, shuttle, updates this is my place for my Disco 2!! Georgetown Wash DC.
Car Repair & Services We Offer
Land Rover® Suspension & Stability Control, experts in Lowered systems repair
BG Service Experts, keep your Land Rovers® Fluids clean and fresh to prolong the life of your Land Rover
Land Rover® Brake Repair & Replacement we charge straight time so our labor times are lower than other places that charge out of the book.
Land Rover® Check Engine Light
Land Rover® Low Coolant Light / Range Rover®  Check Engine Light / Indicator
Land Rover® Oil Change
Custom Welding and Fabrication
Full Service Land Rover® and Range Rover®  Body Shop and Repair
Land Rover®  and Range Rover® Servicing Day Or Night
Free Pick Up and Delivery, Safe Driveable Land Rovers®
Master Techs ON SITE DAILY
EXPERT on Land Rovers Electrical Diagnostic Techs ON SITE
For All your Land Rover® Servicing and Repair needs British 4X4 has you covered!
Land Rover® Brake Repair – Oil Change – Custom Welding / Fabrication 
TRUSTWORTHY, HONEST, AFFORDABLE LAND ROVER® SERVICE
* NOTE : Our Thank You Bags Have Cookies That DO Contain NUTS